Outstanding Public Service Award- Derek Wallen of Capobianco Law Offices
Congratulations to Derek Wallen, an attorney at Capobianco Law Offices, who has been given the Benjamin Aranda III Outstanding Public Service Award by the Los Angeles County Bar Association (LACBA). The award was given at a LACBA reception on June 27, 2018 in recognition of Derek's pro bono work for the LACBA Domestic Violence Project, which helps domestic violence and elder abuse victims obtain legal protection from their abusers.
Sara Rondon, Director of the Domestic Violence Project, commented, "Derek has been a volunteer with the Domestic Violence Project since 2013. Volunteering twice a month, he has donated over 300 hours of pro bono time. Derek is always willing to help out and will even come in on days that we are shorthanded and in need of additional volunteers. He is kind and compassionate with the victims and is able to explain the procedure for getting a restraining order in a way that is easy for the victims to understand. Derek embodies what it means to be a volunteer."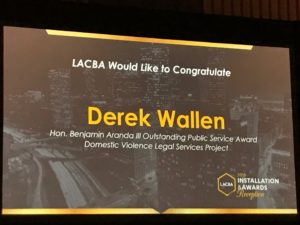 LACBA is one of the largest voluntary bar associations in the world, with over 15,000 members. The Domestic Violence Project is associated with LACBA's Counsel for Justice, which seeks to ensure access to legal services for the poor and under-served and those in crisis. Information about the DVP can be found at https://www.lacba.org/domestic-violence-legal-services-project.