Derek Wallen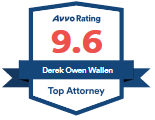 Practice Areas
Business litigation
Appeals
Securities
Commercial contracts
Mergers and acquisitions
Entity formation
Corporate governance
Partnerships and LLCs
Financial elder abuse
Background
Derek has had a sophisticated business law practice for over 20 years. He primarily represents companies and high net worth individuals in complex lawsuits and securities transactions. His work also involves entity formation, corporate governance and commercial contracts. He joined our firm in 2013.
In his litigation practice, Derek represents plaintiffs and defendants in a broad array of commercial disputes. These range from conventional breach-of-contract and business tort actions to more complicated disputes arising from real estate investment vehicles, financial elder abuse and disagreements among business partners. He has prevailed numerous times before the Ninth Circuit Court of Appeals.
Before joining Capobianco Law Offices, Derek practiced in Los Angeles for 10 years and also in Chicago and Silicon Valley. Eight years of his career were spent at O'Melveny & Myers, a leading global law firm. At O'Melveny, Derek closed over $15 billion dollars' worth of securities and M&A deals.
In 1997 and 1998, Derek served as clerk to Chief Justice E. Norman Veasey of the Delaware Supreme Court.
Derek is licensed to practice law in California and Illinois.
Education
J.D., Stanford Law School (1997, Order of the Coif)
B.A., UCLA (1994, Summa cum laude)
Honors
The Hon. Benjamin Aranda III Outstanding Public Service Award (2018)
Awarded by the L.A. County Bar Association for pro bono work on behalf of domestic violence and elder abuse victims.
Representative Publications
Uber Terms and Conditions Do Not Bind Riders to Arbitration, ABA Litigation News (May 2021).
Forced Waiver of Claims Proves Fatal to Arbitration Clause, ABA State and Local News (Summer 2021).
Wiretapped Defense Lawyer Convicted of Witness Bribery, ABA Litigation News (Feb. 2021).
A Strategic Look at Federal Court Removal, Riverside Lawyer (Feb. 2020), at 12-13.
Contact Information
Phone: (760) 610-6758
Email: [email protected]